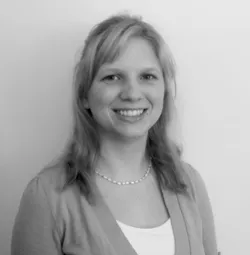 Dr. Goss's collegiate education began at Missouri College, a small trade school located in St. Louis. In 2005, Dr. Goss graduated with a diploma in Massage Therapy with a GPA of 4.0. Not finding the curriculum to be challenging enough, Dr. Goss enrolled at Logan College of Chiropractic. In 2009, Dr. Goss received a Bachelor of Science in Human Biology, and in 2011, received a Doctor of Chiropractic. Dr. Goss is currently a member of the Missouri State Chiropractic Association.
As a student, Dr. Goss was an active member of the Student American Chiropractic Association, student member of the Missouri State Chiropractic Association, and the Motion Palpation Institute Club. Upon graduation, she was awarded various awards including: Dean's List, Division of Research's Award of Excellence and the Senior Intern Assistant Award.

While at Logan, she took as many technique courses as allowed so she could have the best 'toolbox' to help patients. Dr. Goss's core techniques are Diversified, Flexion/Distraction and Thompson Drop. It is this arsenal of knowledge that allows her to naturally care for a wide variety of ailments from which patients suffer. Some of these ailments include: shoulder pain, migraine headaches, neck pain, back pain, and numbness/tingling to name a few. As a migraine sufferer herself, Dr. Goss loves helping other women experience the benefits that chiropractic care can have on migraines and headaches. She truly understands the limitations migraines and headaches can impose because she, too, has them and her migraines are much better managed since introducing chiropractic care.

Dr. Goss grew up and still resides in Pacific, Missouri. She has been married to her husband and high school sweetheart, Andrew Bruns, since 2009. They do not currently have any children but have 3 wonderful human nieces, as well as cats. Dr. Goss looks forward to serving the Union community for many years to come… even if it means having to put away her purple and white for red and black.